This Privacy Policy has been compiled to help you understand how ImageSuggest (herein referred to as "we", "our", "us", "our service", ImageSuggest) use your personal information, through the website https://imagesuggest.com and our Google Docs Add-On. The Privacy Policy does not cover any third-party websites, applications, software, products or services that integrate with ImageSuggest or are linked to from ImageSuggest.
What is ImageSuggest?
ImageSuggest is a tool that allows you to easily find images to illustrate your text. It relies on Images coming from third-party image databases. As of July 8th 2021, images come from Unsplash.com, Pixabay.com and Pixabay.com.
Why do we need to collect some information?
ImageSuggest is a freemium service, meaning you don't need to pay anything to use it. Since our service is web based, we do need to store a small amount of information about you, your usage and some metadata associated with your use of our service. For example, in order for you need to sign up, you need to provide us with a valid email, or use Google authentication to access our service ("sign up with Google").
What Information does ImageSuggest track?
Personal information
The only personal information we store is your email address, and an encrypted password. We collect your email via the sign up form that you fill, or we retrieve from Google automatically if you choose to sign up with a Google account.
If you choose to upgrade to a paid plan, we send your request to a PCI compliant payment processing partner, which is Stripe. We do not store any billing or payment information ourselves, we rely on your PCI compliant payment processing partner for that purpose.
If you reach out to us via email, we will collect your email, as well as any personal and non-personal information that you choose to share with us via email. If you connect with us via the Contact form shown on our website, we may collect your name, reason, email address, IP, user agent, and any other information that you choose to share with us via the Message field of the Contact form.
Google Docs Add-On
We offer our service via a Google Docs Add-On which can be downloaded on Google Marketplace. Besides, we allow our users to sign up and log in to our service using their Google account. As such, we have to maintain strict compliance with Google API Services User Data Policy and Google APIs Terms of Service. Our Google Docs Add-on also has to satisfy Google's OAuth's Client Verification review and Add-on review. Please check the section "Add-on authorization & data access" below to understand which information our Google Docs Add-on has access to.
Non Personally identifiable Information
We store your user settings such as default language and default image databases used for searches. We also store the date at which your account was created and when you last accessed it. In order to monitor usage, abuse and provide you with great quality of service, we calculate:
the number of manual searches per month
the number of automatic searches per month.
we monitor our API response time, and the error rate.
We do not collect any cookie information and we don't track any non logged in user, other than through the use of Google Analytics (cf later).
Add-on authorizations & data access
When you install the ImageSuggest Google Docs add-on, it will ask for authorization to run on your account. The authorizations will be used for the sole purpose of providing the service to you. We respect data miniminization principle and collect only a minimal amount of personal data through ImageSuggest in order to ensure the proper provision of ImageSuggest's value. We do not use your personal data for any purpose that are different from the purposes for which it was provided.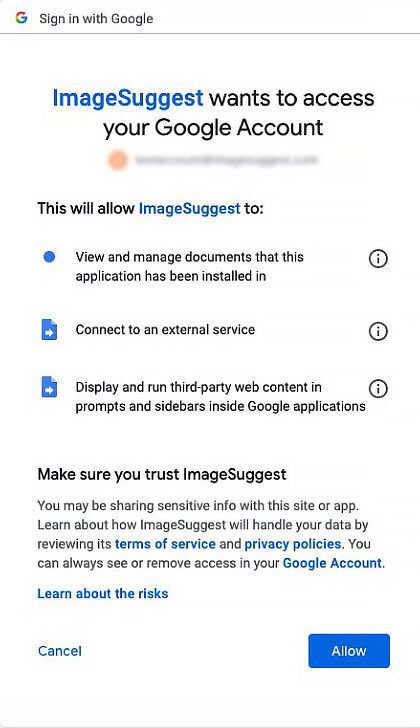 View and manage documents that this application has been installed in
This authorization is required for the add-on to be able to access and modify the Google Docs documents that you install it in.
Connect to an external service
This authorization is required for the add-on to send and retrieve information to and from our API.
Display and run third-party web content in prompts and sidebars inside Google applications
This authorization is required for the add-on to to work in a sidebar inside Google Docs, where you can request automatic image suggestions, perform manual image searches and configure settings.
We also rely on the following authorization:
See your primary Google Account email address
Your email address is used to create your ImageSuggest account.
Google Analytics
We use Google Analytics to monitor and analyze the use of our commercial website (imagesuggest.com). Google Analytics is a web analytics service offered by Google that tracks and reports website traffic. Google uses the data collected to track and monitor the use of our Service. This data is shared with other Google services. Google may use the collected data to contextualize and personalize the ads of its own advertising network.
You can opt-out of having made your activity on the Service available to Google Analytics by installing the Google Analytics opt-out browser add-on. The add-on prevents the Google Analytics JavaScript (ga.js, analytics.js, and dc.js) from sharing information with Google Analytics about visits activity.
For more information on the privacy practices of Google, please visit the Google Privacy & Terms web page: https://policies.google.com/privacy?hl=en
Clarity
We have installed a Microsoft Clarity cookie on every page of our site. Clarity captures the interactions on our website such as how the page has rendered and what interactions users undertake such as mouse movements, clicks, scrolls, etc. By default, any sensitive content such as passwords, usernames, etc. By default, any sensitive content such as passwords, usernames, etc. are masked before sending to Clarity. Clarity is GDPR complaint as a data controller.
How long does ImageSuggest keep those data for?
We will retain your information for as long as your account is active, as needed to provide you services, to comply with our legal obligations (ex: accounting), resolve disputes, and enforce our agreements. We do not share your personal information to third parties except as described in this Privacy Policy.
Deleting your ImageSuggest account
To delete your ImageSuggest account, log in to your account on imagesuggest.com, click on the menu at the top right of the screen, select "Membership" and click on "Close my ImageSuggest account" button at the bottom of the screen. Please also check the next section "Removing the Google Docs Add-On" in case you have chosen to use our Google Docs Add-On.
Once you've followed those steps, we will remove your name, email, plan from our database, and delete your details from our Stripe account. We do keep we delete user records from our DB entirely and we also delete customers from Stripe.
Removing the Google Docs Add-On
These steps apply to you in case you have installed on Google Docs Add-On. To remove the add-on access to your Google account, you must uninstall the add-on from the Google Workspace Marketplace:
Go to the G Suite Marketplace Manage apps page
Next to ImageSuggest logo, click the menu icon
From the drop down menu, click Uninstall
Uninstalling ImageSuggest will interrupt all the add-on's functionality and activities on your Google account.
Does ImageSuggest share any data with Third Parties?
Ensuring your privacy is important to us. We do not sell, trade, or otherwise transfer to outside parties your Personally Identifiable Information unless we provide users with advance notice. We rely on third parties for some services:
Stripe: we use Stripe for payments processing. Stripe is a PCI compliant payment processing service. Please check Stripe's privacy policies to understand how Stripe uses your information. Check their privacy policy here: https://stripe.com/privacy
Netlify: we use Netlify for user management, hosting and email notifications. Please check Netlify's privacy policies to understand how Stripe uses your information. Check their privacy policy here: https://www.netlify.com/privacy
How do we protect your information?
Our website is scanned on a regular basis for security holes and known vulnerabilities in order to make your visit to our site as safe as possible.
Your personal information is contained behind secured networks and is only accessible by a limited number of persons who have special access rights to such systems, and are required to keep the information confidential.
We implement a variety of security measures when a user places an order enters, submits, or accesses their information to maintain the safety of your personal information. All transactions are processed through a gateway provider and are not stored or processed on our servers.
Disclosure of data
ImageSuggest may disclose your Personal Data in the good faith belief that such action is necessary to:
To comply with a legal obligation
To protect and defend the rights or property of ImageSuggest
To prevent or investigate possible wrongdoing in connection with our service
To protect the personal safety of users of our service or the public
To protect against legal liability
Third-party links
Occasionally, at our discretion, we may include or offer third-party products or services on our website, and in particular in our blog section. These third-party sites have separate and independent privacy policies. We therefore have no responsibility or liability for the content and activities of these linked sites. Nonetheless, we seek to protect the integrity of our site and welcome any feedback about these sites.
Stock Photos Websites
ImageSuggest relies on images from stock photography websites. As of July 8th 2021, images come from Unsplash.com, Pixabay.com and Pexels.com. There privacy policies can be seen on these pages:
https://www.pexels.com/privacy-policy
https://pixabay.com/service/privacy
By using our service, you acknowledge that you have read the privacy policies of those sites and have agreed to them.
How do we communicate with you?
From time to time, you may receive messages from us. In this section, we explain when you may receive commercial and service-related notices from us and what you can do to decline our promotional messages.
Newsletters
If we have your email address, we may send you a newsletter to keep you updated about the latest developments related to ImageSuggest and our special offers. You will receive our newsletters in the following instances:
If we receive your express ("opt-in") consent to receive marketing messages; or
If we decide to send you information closely related to services already used by you.
Opting-out
You can opt-out from receiving our commercial communication at any time free of charge by clicking on the "unsubscribe" link included in our newsletters, adjusting the settings of your user account, or by contacting us directly.<
Service-related notices
If necessary, we will send you important informational messages, such as confirmation receipts, payment information, technical or administrative emails, and other administrative updates. Please note that such messages are sent on an "if-needed" basis and they do not fall within the scope of commercial communication that may require your prior consent. You cannot opt-out from service-related notices.
Tracking pixels
The newsletters sent by us may contain tracking pixels that allow us to conduct analysis of our marketing campaigns. Tracking pixels allow us to see whether you opened the newsletter and what links you have clicked on. We use such information to conduct analytics and pursue our legitimate business interests.
California Online Privacy Protection Act
CalOPPA is the first state law in the nation to require commercial websites and online services to post a privacy policy. The law's reach stretches well beyond California to require any person or company in the United States (and conceivably the world) that operates websites collecting Personally Identifiable Information from California consumers to post a conspicuous privacy policy on its website stating exactly the information being collected and those individuals or companies with whom it is being shared.
See more at: https://consumercal.org/about-cfc/cfc-education-foundation/california-online-privacy-protection-act-caloppa-3/
According to CalOPPA, we agree to the following:
Users can visit our site anonymously;
Once this privacy policy is created, we will add a link to it on our home page or as a minimum, on the first significant page after entering our website;
Our Privacy Policy link includes the word 'Privacy' and can easily be found on the page specified above;
You will be notified of any Privacy Policy changes on our Privacy Policy page.
You may change your personal information by emailing us or by logging into your account.
Childen's privacy
When it comes to the collection of personal information from children under the age of 13 years old, the Children's Online Privacy Protection Act (COPPA) puts parents in control. The Federal Trade Commission, United States' consumer protection agency, enforces the COPPA Rule, which spells out what operators of websites and online services must do to protect children's privacy and safety online.
We do not specifically market to children under the age of 13 years old.
Cookies
Our Website includes tracking technologies such as cookies, pixels and other tracking technologies. These tracking technologies are used for the purpose of gathering some information automatically, by ourselves or by service providers on our behalf.
"Cookies" are small text files that are placed on your hard drive by a web server when you access our Website or use the services. Cookies are used for many purposes, and for example, for making the interaction between you and the services quicker and easier, enabling automatic activation of certain features, efficient navigation, providing the Website in an applicable language in accordance with your country, etc., as well as for remarketing purposes (as detailed below).
You can find comprehensive information about cookies at: www.allaboutcookies.org.
In addition to our cookies used to operating the Website and track performance of our campaigns, we may permit third parties to use cookies or other tracking technologies, as follows:
<insert table>
We will placed cookies based on your consent, as required under your jurisdiction, provided through our cookie manager. If you wish to revoke such consent, please contact us at (cf contact us section).
You may control how your browser responds to cookies by adjusting the privacy and security settings of your web browser. Additionally, you may opt out of certain Advertisers' cookies and browser-enabled, interest-based advertising at the Network Advertising Initiative's ("NAI") website- NAI consumer opt-out and the Digital Advertising Alliance's ("DAA") website- DAA opt-out page.
GDPR Requirements
The General Data Protection Regulation (GDPR) is aimed at giving citizens throughout the European Union (EU) control over their personal data. GDPR applies to you if you are a European Union citizen or, as a business, if your email subscribers are EU citizens, or you deal with any kind of personal data of EU citizens.
ImageSuggest has reviewed and is in compliance with the General Data Protection Regulation (GDPR). We have designed the application to store minimal data and maintain strict compliance with the legislations on data that is processed by the application.
Right to be forgotten
In accordance with GDPR, CCPA and other global legislation you have a 'right to be forgotten'. If you wish to cancel your account and have all your data removed, follow the guidelines detailed in the sections "Deleting your ImageSuggest account" and "Removing the Google Docs Add-On".
Changes to this Privacy Policy
We may update our Privacy Policy from time to time. We encourage you to visit this page from time to time in order to view our latest Privacy Policy. You can access this Privacy Policy from the links shown in the footer at the bottom of the page on our homepage at imagesuggest.com, as well as on most pages of our website.