Are you looking for free stock photo websites with the most images? Naturally, sites with millions of photos have more variety, so it's easy to find unique photos. You can also access fresh photos on a daily basis thanks to the larger communities of contributors. Today, we have highlighted 6 free sites for stock photography. Smaller sites still have their place as some specialise in niche-photography. We'll cover them as well. As we saw in another blog post, finding unique stock images can a good strategy to generate traffic to your site using images.
Let's get started:
1. Flickr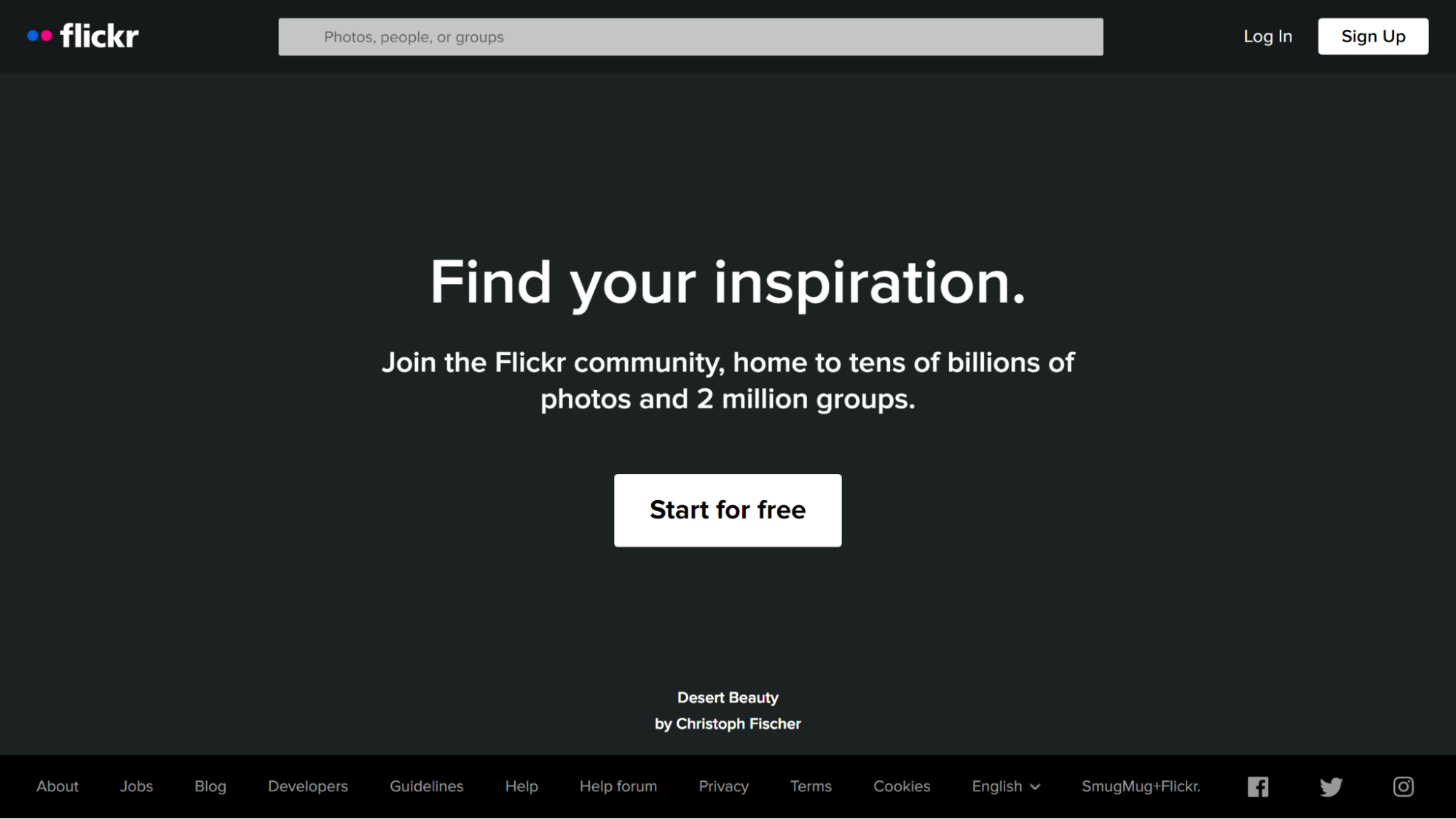 Flickr is the most popular destination for amateur and professional photographers. Contributors tag their photos under various CC licences. Unfortunately, this makes it confusing for re-users. As an illustration, the CC-BY License permits the use of images for all purposes but requires attribution. On the other hand, the creative commons zero licence or CC0 license means that images are in the public domain. Such content is suitable for personal and commercial use without the need for attribution.
CC licenses have been simplified for common use. And if you're not familiar with how they work, we have a blog post on creative commons (cc0) licenses that can bring you up to speed. We've also covered how to use creative commons images in another article.
How many photos does Flickr have?
Flickr is home to tens of billions of photographs. And how did it acquire its vast collection of content? Well, most of the content is user-generated. As of June 2015, users were adding more than 3.5 million photos daily. Despite hosting such a huge collection, the site was bleeding tens of millions of dollars every year. So, in 2018, it was sold to SmugMug. The new owners limited free accounts to 1000 images instead of the previous 1 Terabyte of free storage. The policy has restricted the proliferation of new content.
2. Creative Commons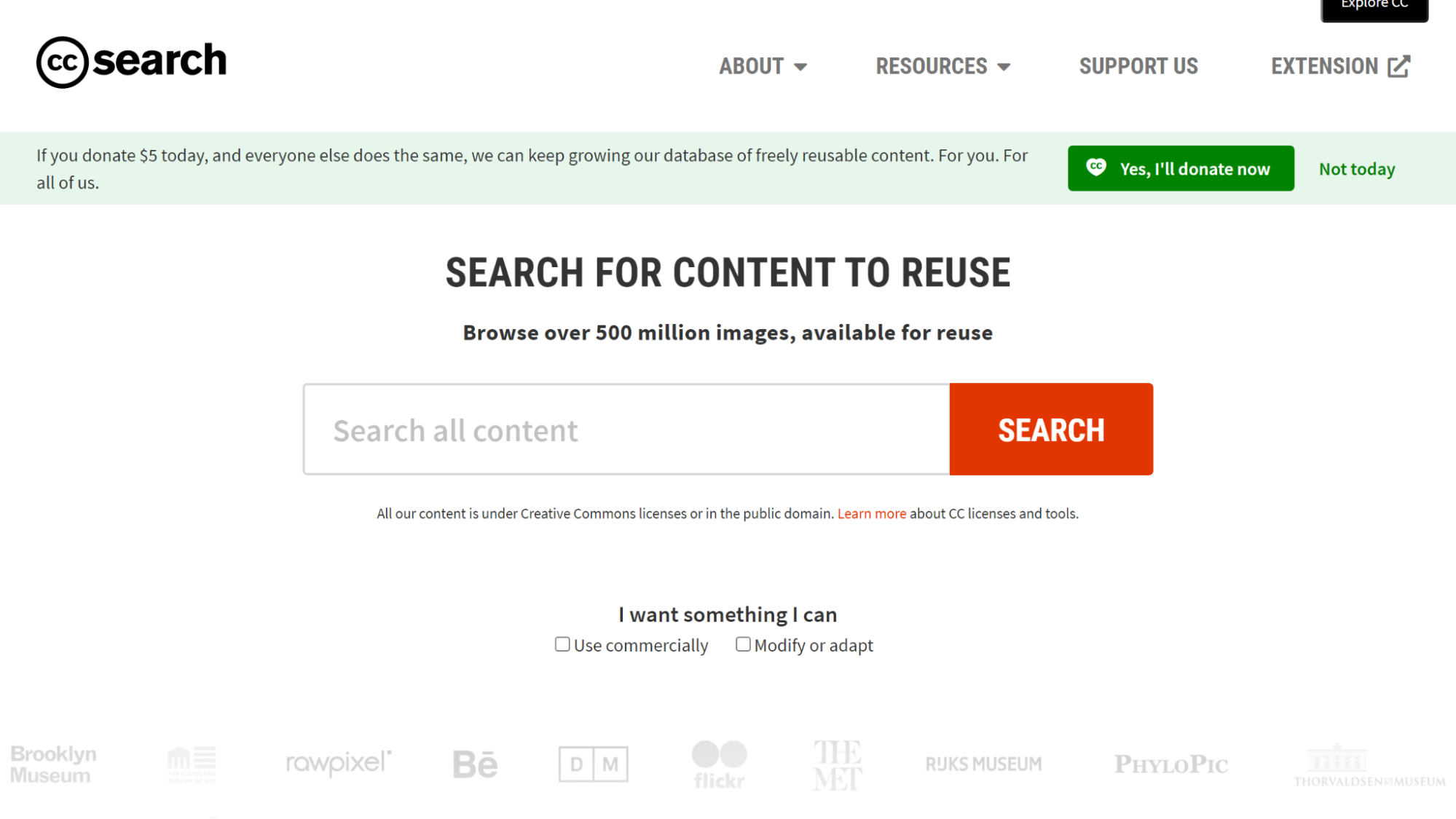 Creative Commons is the non-profit organisation that publishes and maintains CC licences. And CC Search is their dedicated search engine that aggregates openly licensed content across the web. Like the Google search algorithm, it indexes content from third-party sources, such as Wikimedia Commons. It doesn't have any user generated content like other stock photography sites.
How many images does Creative Commons have?
Creative Commons has a library of over 500 million reusable images. Its top sources include Flickr (466M images), Wikimedia Commons (44.4M), and Europeana (7.7M). Their end goal is to catalogue all openly licensed images on the internet.
3. Pexels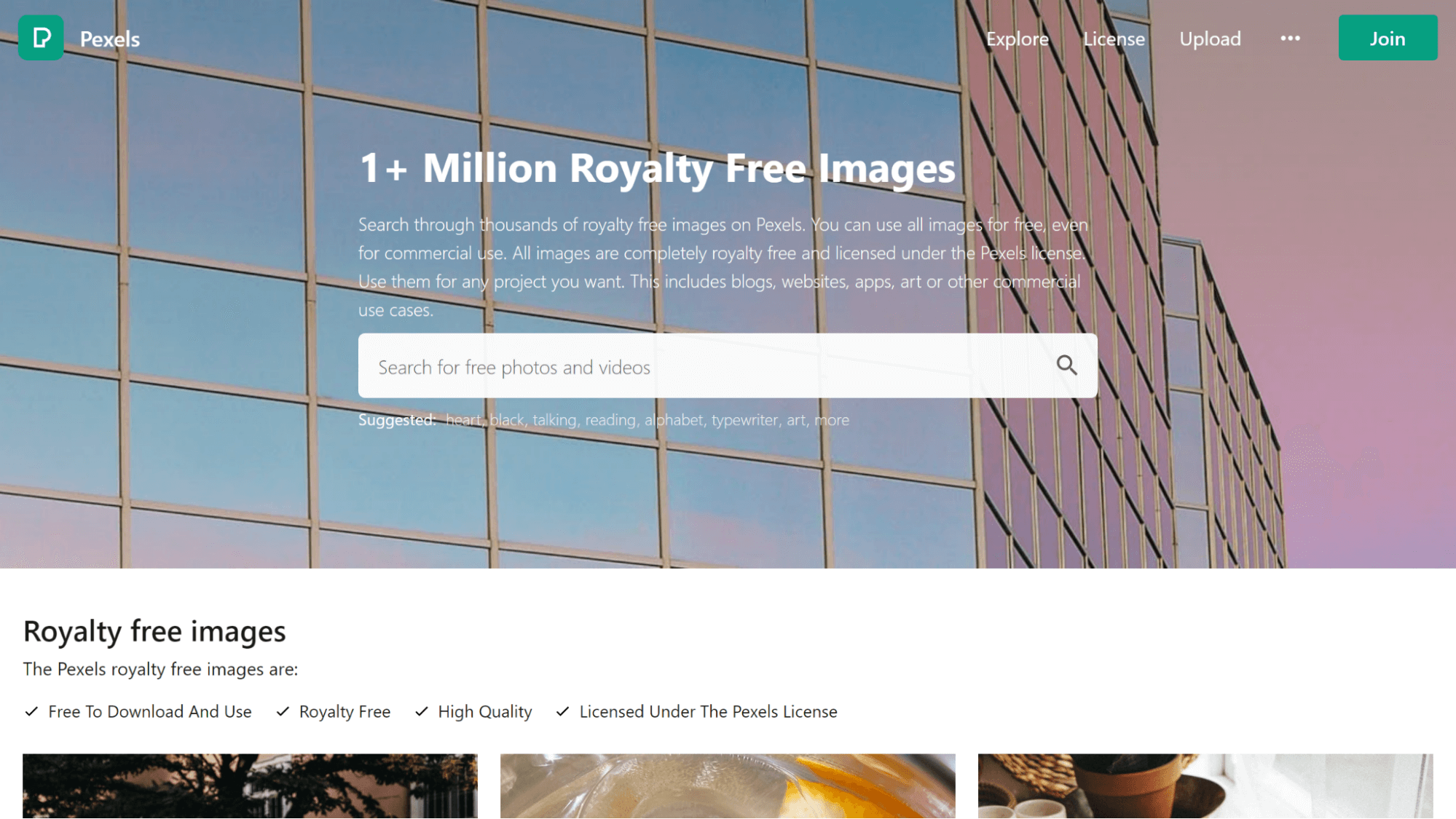 Founded in 2014 by Ingo Joseph, and Bruno Joseph, Pexels has grown to become one of the top three sites for high-quality stock photography. It relies on the contributions of its global community of photographers. All images are hand-picked for quality.
How many images does Pexels have?
Pexels is home to over 3 million photos and videos. You can easily find fresh content by easily filtering for new photos. It's even possible to find photos uploaded on the same day. It publishes free stock images under the Pexels license that allows all use purposes with no attribution.
4. Unsplash
Founded in 2013, Unsplash has quickly grown to become one of the top three choices for free stock photography with easy licensing terms. It relies on the contributions of its members.  Photographers particularly like Unsplash because it gives them full visibility about how many times their images have been seen or downloaded. Unsplash relies on hotlinking to retrieve the data.
How many images does Unsplash have?
As of 15th June, 2021 Unsplash hosts about 2.9 million images. It's about mid-month, and already, 81,000 new images have been added. Users have averaged 36 image downloads per second.
Unsplash reveals the number of new contributors, views, and developers. You can even track live Unsplash statistics.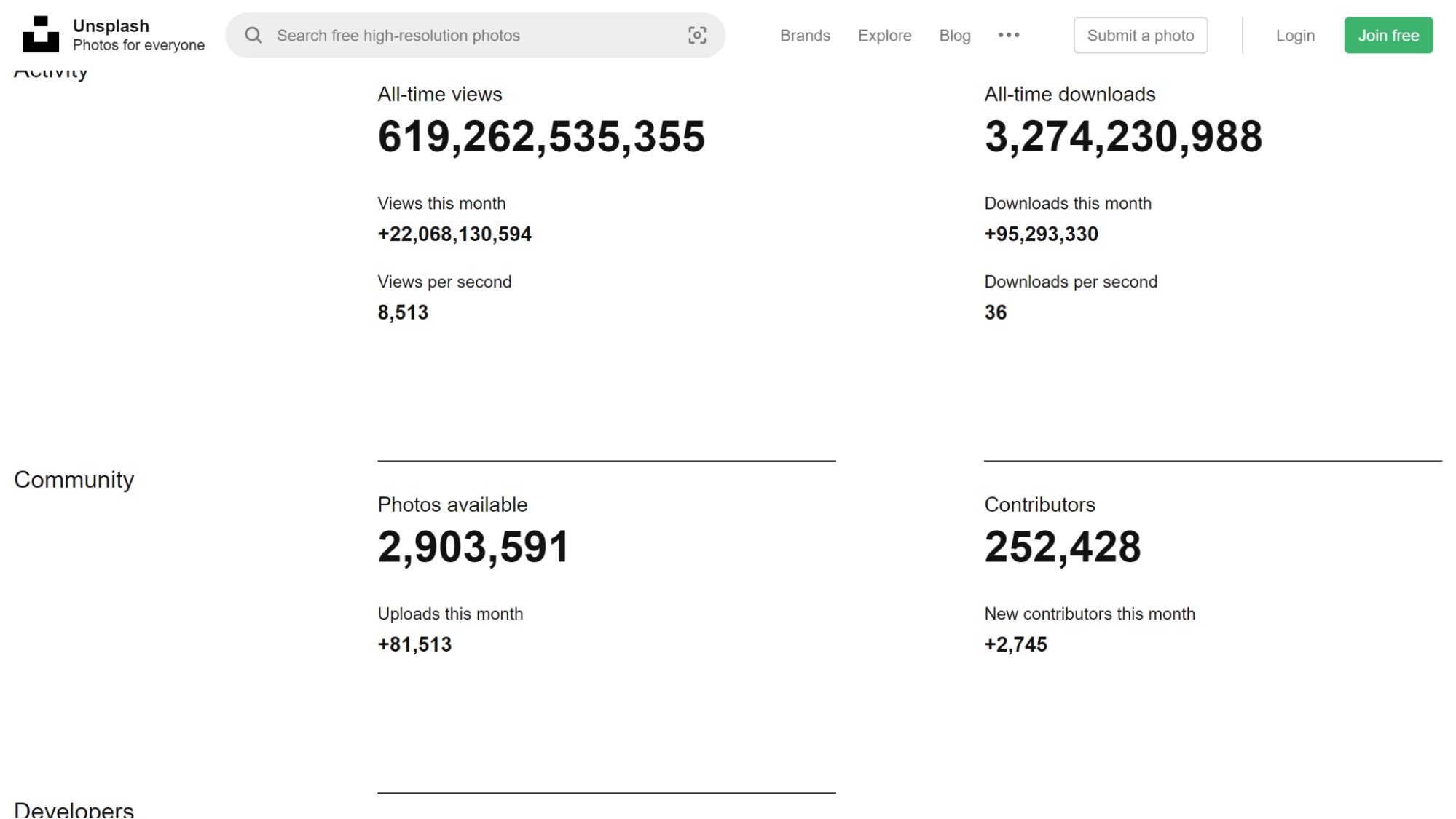 5. Pixabay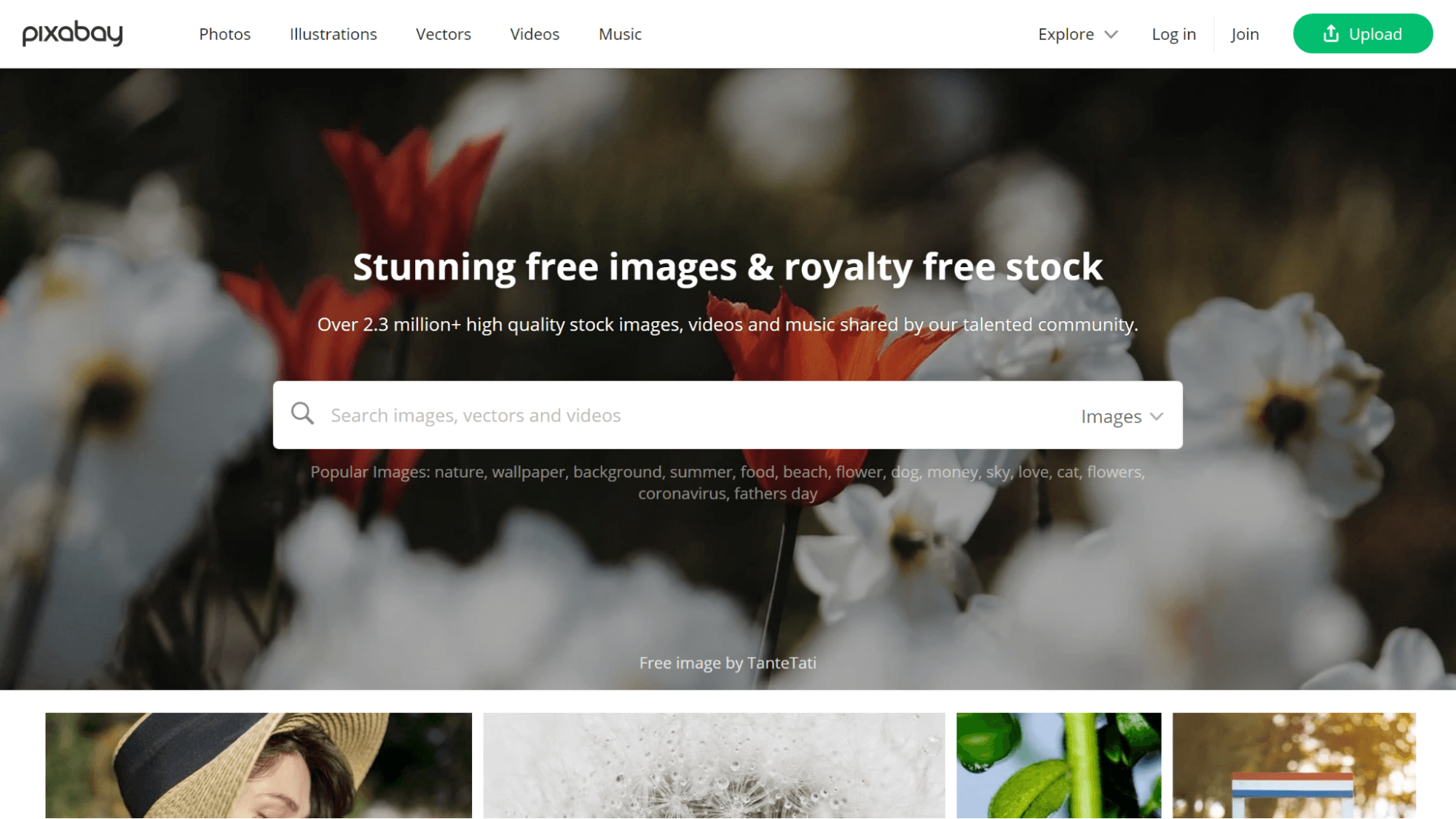 Pixabay originated in 2010 as an image source for writers publishing on micro-blogging platforms Wizzley and Pagewizz. At the time, creatives heavily relied on Wikimedia Commons and Flickr for free images. They had to grapple with low quality images and the restrictive requirements of some CC licenses.
How many images does Pexels have?
On November 6 2015, Pixabay celebrated their 500,000 image milestone, and restated their mission to continue providing high-quality, simple-to-use images. Three years later in November 2018, the site hosted about 1.1 million photos, vectors, and videos.
As of June 2021, the site's homepage banner declares that their collection stands at 2.3 million+ images, videos, and music files. Like other stock photography sites, Pixabay relies on the contributions of its members, and only selects the best images.
6. Pikwizard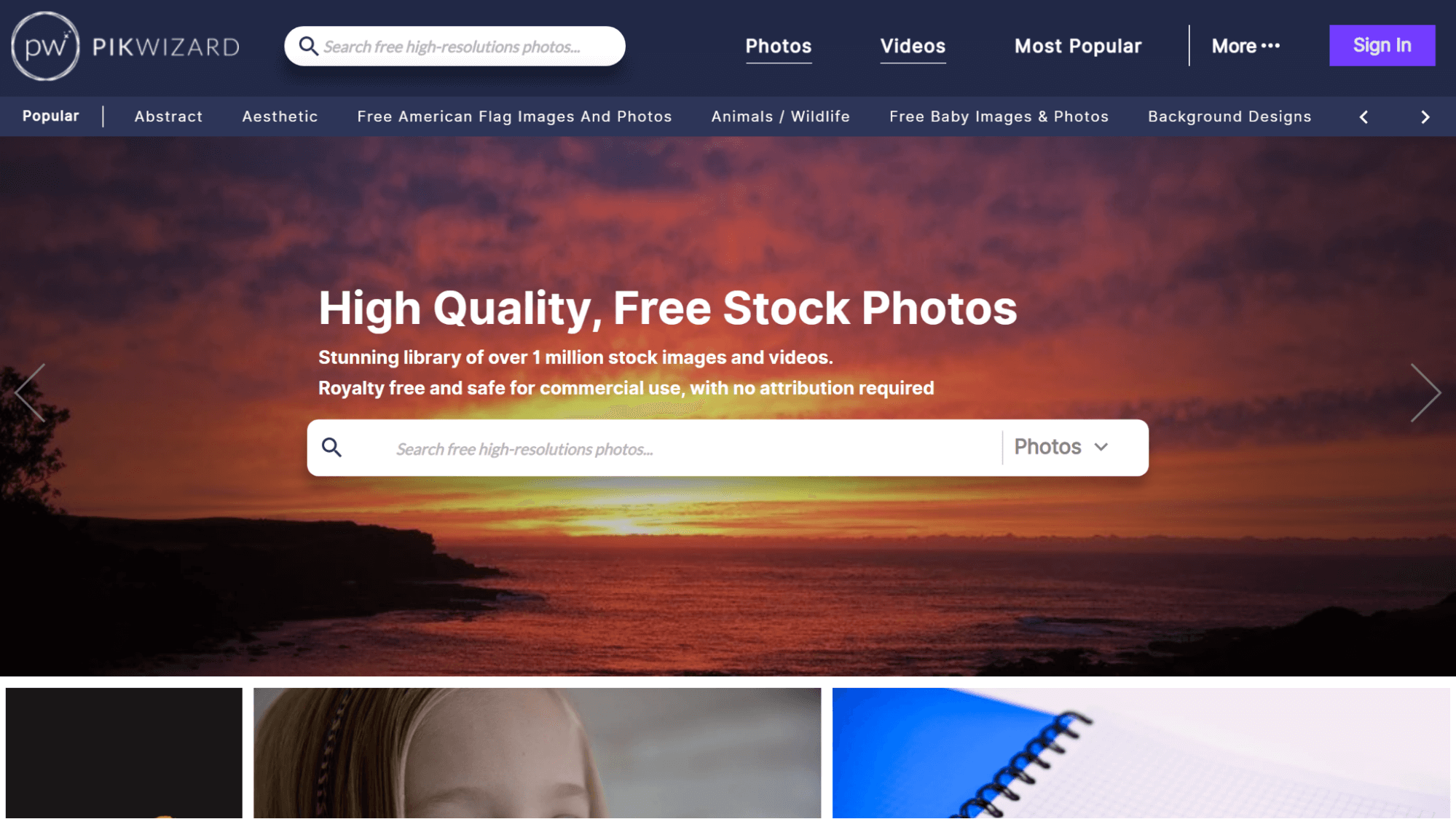 PikWizard is a free image site hosted by Design Wizard, an online graphic design software that helps non-professionals to create stunning visuals.
How many pictures does PikWizard have?
The site is home to over 1 million high-quality free stock photographs and videos. Users can reuse the images for  commercial and personal purposes with no attribution requirements.
Niche Sites for Free Stock Images
There are a number of free smaller websites that provide stock imagery. You can always reference them if you can't find the right photo from the larger sources.
One such website is Picjumbo, created in 2019 by Victor Hanacek. His collection that numbers in the thousands has been downloaded over 2.5 million times. For instance, there are about 891 free images of people, 201 animal photos, and 449 traveling photographs.
Gratisography, another stock image website, describes itself as home to the "quirkiest collection" of high-resolution free images. It's operated and curated by Ryan McGuire, a photographer with decades of experience. The site is neatly catalogued featuring images of people (248), urban landscapes (93), objects (137), nature (77), food (55), and fashion (55).
Other sources to check in your search, include:
StockSnap.io: Hundreds of new CCO free stock images added weekly.
Kaboompics: Home to 20,426 images for all purposes with no attribution requirements.
Depositphotos: Has a library of 69,434 free files with attribution requirements.
DeathToStock: Delivers 20 free images each month straight to the subscriber's inbox.
Find the Best Stock Photos in One Place
Quick question: How do you search for images on websites that host millions of free stock images? Do you use the manual filters or custom keywords? Admittedly, you may not find the right image from a single search, and a particular source may lack the ideal image, which necessitates checking multiple sites.
ImageSuggest can save you a lot of time spent finding the best free images for your projects. At the moment, users are finding photos from Pexels, Pixabay, or Unsplash all in one place. Since it allows you to search for images for part or all of your text, ImageSuggest is your ally no matter how many images you include per blog post.
We even provide a free Google Docs add-on, allowing you to find images as you write your articles.