One of the most dreaded things you can encounter on the web is a blog post with walls and walls of text with no images! It's boring. And overwhelming. No one can blame you for bouncing off to a YouTube video that is easier to digest. You probably use images in your content. For instance, before you publish a blog, it's customary to include the featured image. But how many images should you have in the actual content? What is considered too much? We will tackle these questions and cover other interesting topics. Let's go:
How many images should you put in a blog?
Expert designers aim for a certain number of images for the word count. The general recommendation is to use at least one image for every 150 words to 350 words. For instance, we are well over 200 words at this point. It's the ideal spot to include an image that will break up the text and allow readers to take a breather: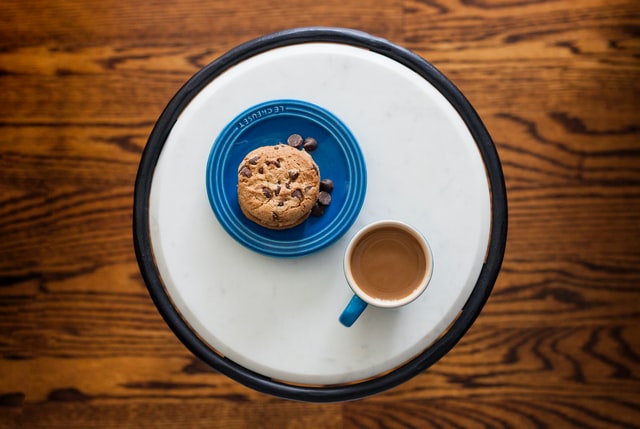 Yet, there is no right answer to the number of images in blog posts. U
sing an image after X number of words is not a hard and fast rule. 
Use as many images as you see fit. And don't worry about overwhelming the reader. Our brains process pictures 60,000 times faster than text. 
For instance, BuzzFeed publishes viral list articles, also called listicles. They include images after one or two sentences: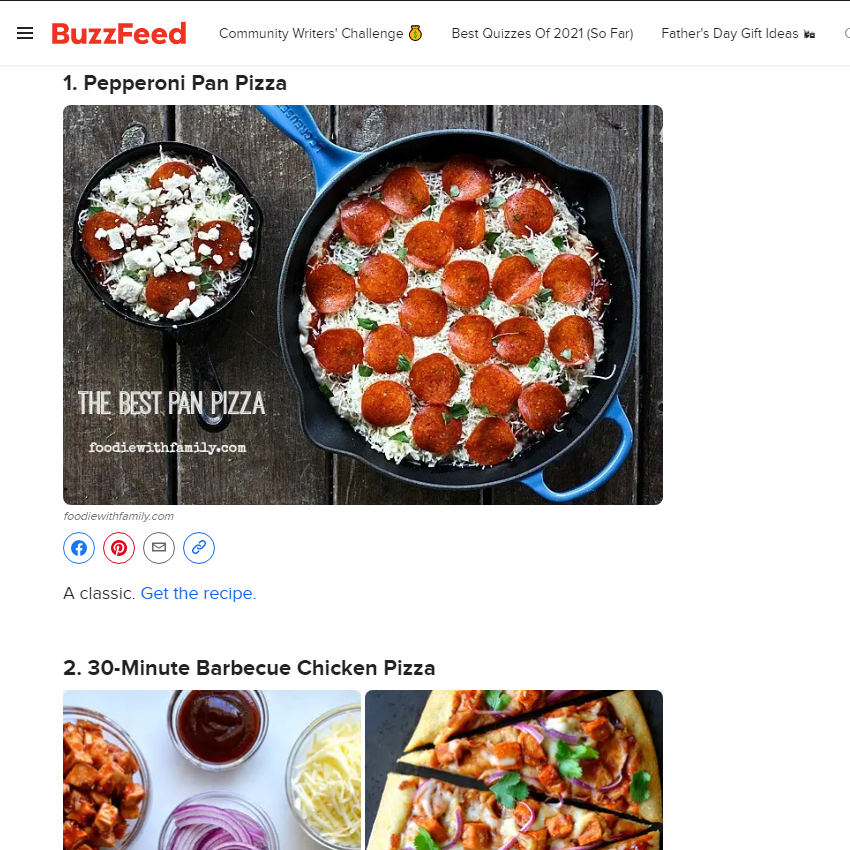 Using many images has its drawback. That's because the page will be bulky, which impacts the page speed. Google penalizes slow-loading websites in the rankings. How can you avoid this? We were curious how BuzzFeed tackles this same problem. On analyzing their posts, we discovered that the images had tiny file sizes. That's because they compress their images and save them in Webp. It's a next-generation image format developed by Google that results in small file sizes without impacting the image quality. Stick around; we'll talk about other ways to optimize images.
Why putting images in your blog post is important
Now that you know the number of images to put inside your blog posts let's find out why images matter.
1. They make content visually appealing, which increases engagement
A webpage that is all text doesn't look at all appealing. You need blog posts to be appealing for people to scroll, link, share, and like. Webdam.com revealed that posts
with images
have a 650 percent higher engagement than text-only posts. Tweets and Facebook posts with images also receive more
engagement
.
2. Images can generate traffic and increase rankings
What's the position of search engines on images? Search engines keep their ranking algorithms a secret. Marketers often rely on analysis to determine ranking factors. For this reason, Backlinko partnered with Aherfs to
analyze over 11.8 million Google Search results.
They discovered that content with images outranked content without visuals. That's not all: People can also find your blog posts through image search. For instance, Google indexes images from websites and displays them for each search query.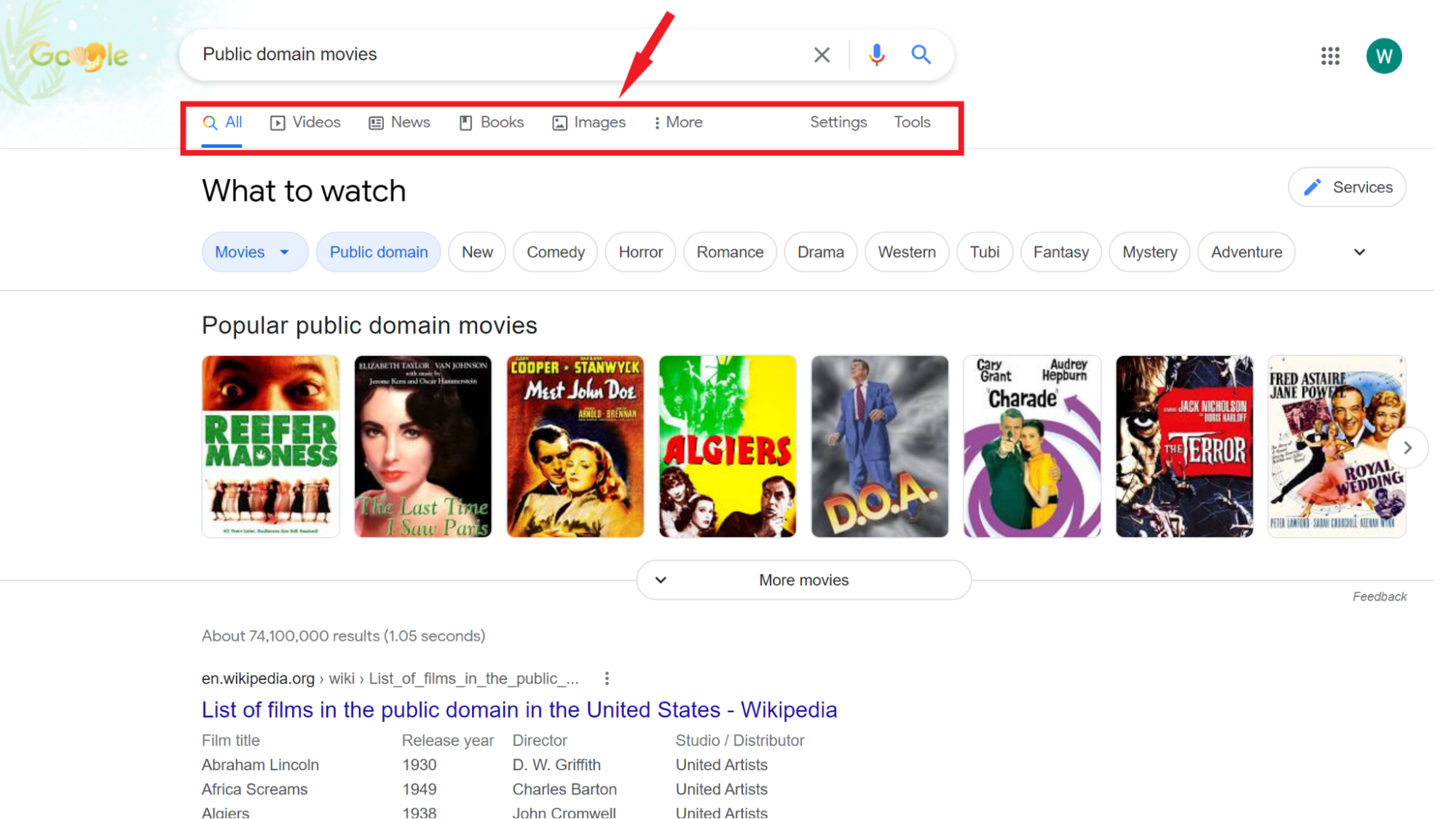 Some keywords have a visual intent, particularly in niches such as recipes, DIY ideas, or fashion. That means that Google will display the image results even on the first page. Using high-quality and original photos can help visitors discover your site. SEO is like baking a cake. It's not enough to say that adding more photos to a blog will increase traffic. Ranking higher requires that you do everything right. Don't expect to appear on page one with a plagiarized and keyword spammed blog just because you're using original images.
3. Explaining concepts
Don't get caught up explaining something where an image can do. Trust that the image will say a thousand words. So, use screenshots to show readers the steps to take and check our guide if you wonder 
how to take high resolution screenshots
. Besides, you may include diagrams in your articles to build connections between ideas. Similarly, use photos to accompany descriptions.
4. Visualizing data and figures
Large quantities of data can overwhelm the mind. Each time you need to show raw data, consider creating a chart.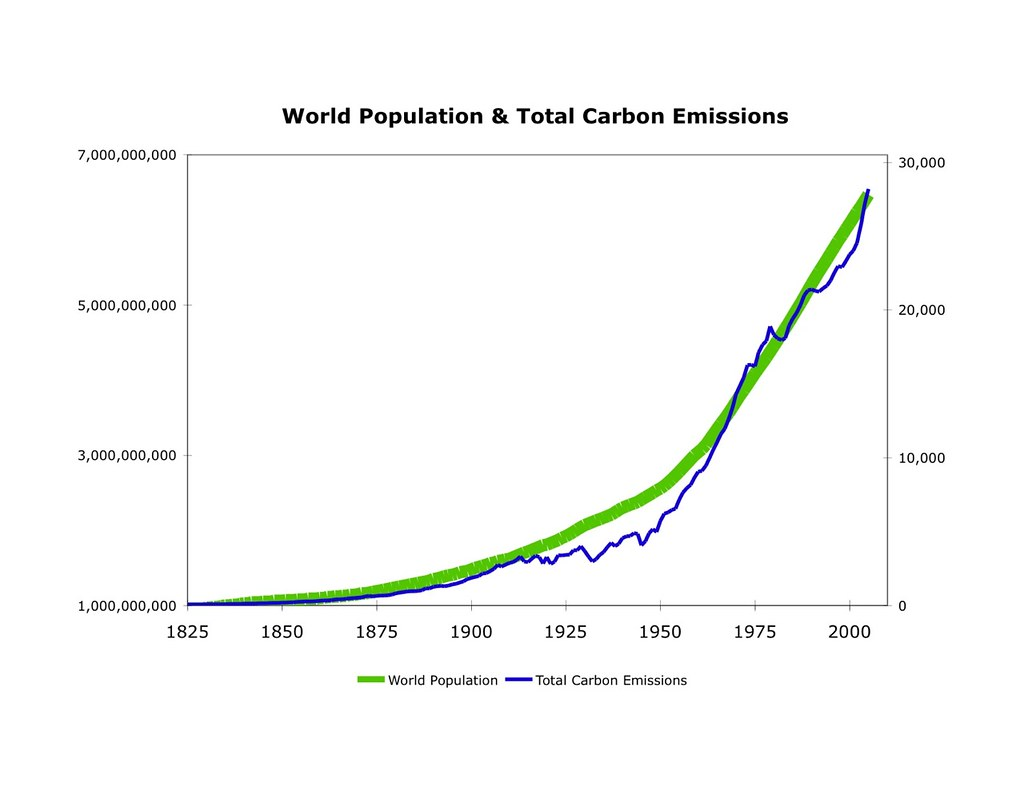 5. Images can make blogs more entertaining
You can use images solely to make the content entertaining and infuse personality. For instance, consider the use of GIFs or memes in blogs. They can help you say things you can't express in words. Even Facebook allows advertisers to use Gifs in adverts.
6. Images can reinforce your brand's identity
For many, the cover image is an after-thought. But for some blogs, it's the place to reinforce their brand identity. Slack does this best with its custom illustrations. And we're raving fans of their original artwork.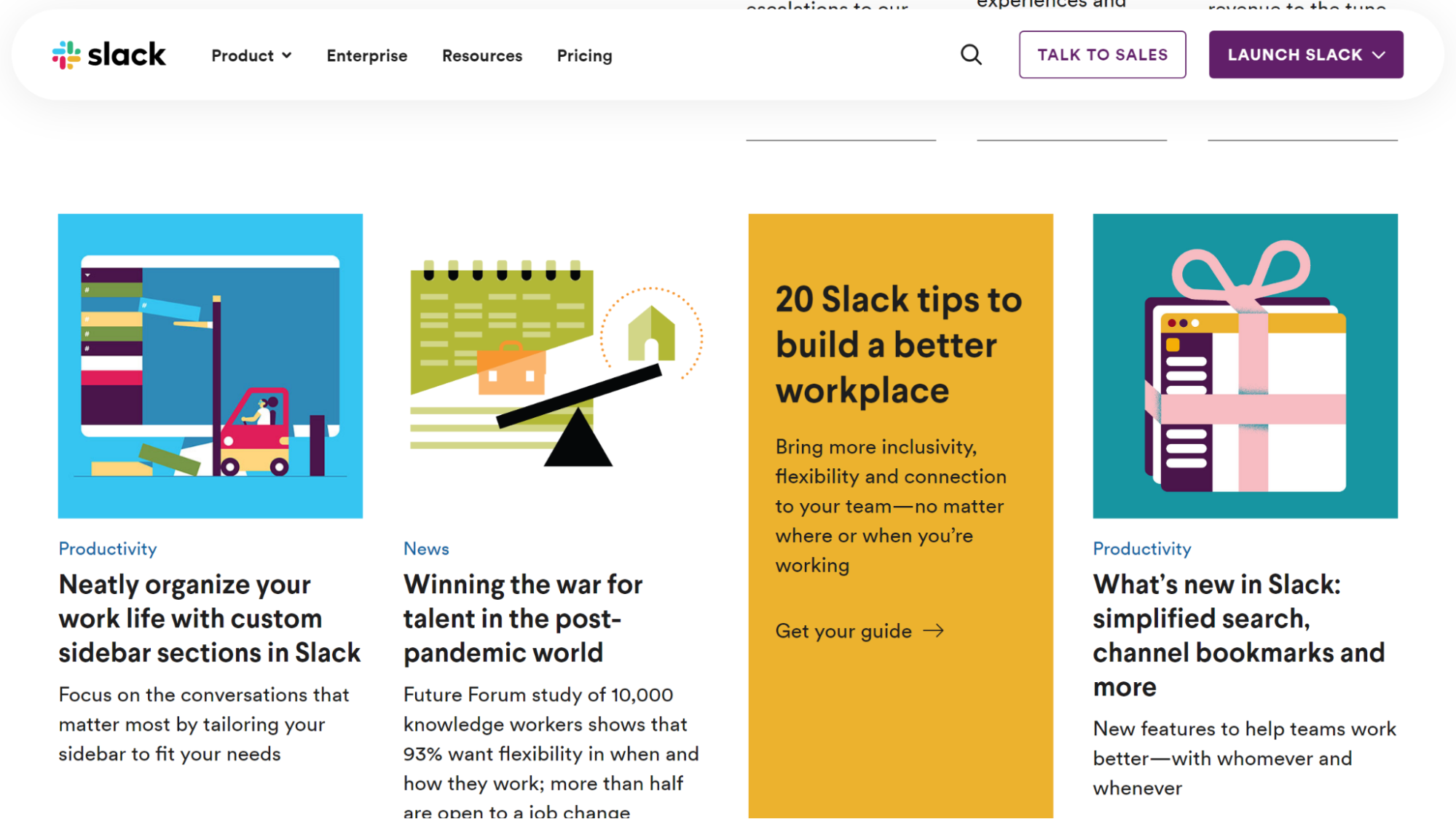 The common misconception is that you need to spend a lot of money on custom illustrations. Well, it's not the case. There are many talented designers on
Fiverr
who can create original artwork for as little as $10. You'll need to create a simple brief or sketch of what you want. For consistency, the illustrations should use your color palette.
7. Bridging the gap with readers
Photos featuring people draw our attention. It's natural and instinctual. That's why many blogs use stock photography featuring people doing things. We can't resist looking.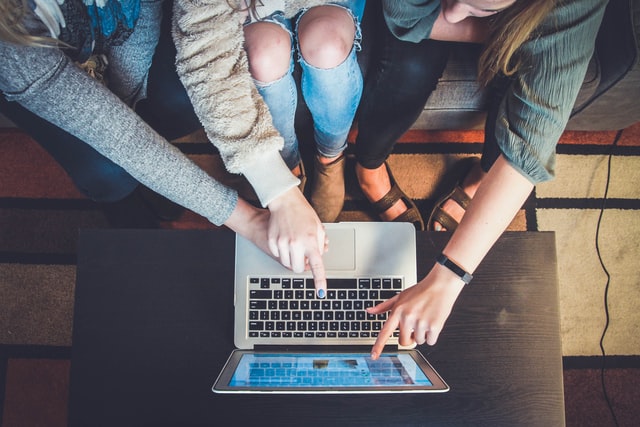 It's time to take the concept to the next level. Neil Patel proposes that you should consider using your own face to humanize the content. He lives by this philosophy. On his blog, you'll encounter his many headshots. You instantly know the man, and the content feels like taking advice from a friend.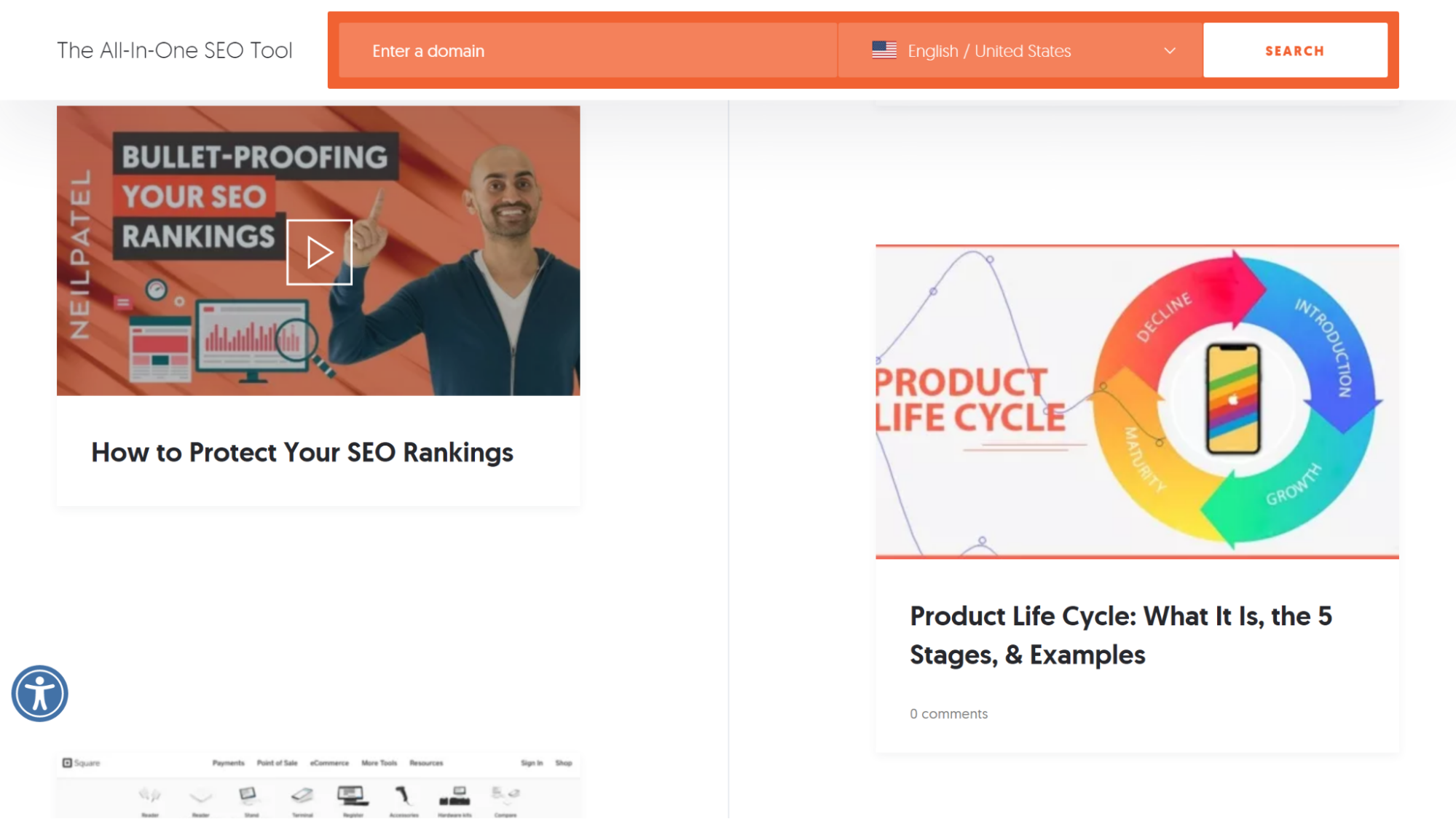 Image placement tips
Are you pumped and ready to use more images in your posts? Hold up! There is a bit more you need to know about image placement to get professional results.
1. If it's not relevant, don't use it
We have proposed that you should use images after 150 to 350 words. But don't use this as an excuse to spam your blog post with unrelated images. It's better to have few and relevant images than many fluffy images. As a hint, the stock photo should be in some way related to the surrounding text. For a done-for-you approach, you can use our 
AI image suggestion add-on for Google Docs
. You highlight a piece of text and receive image recommendations from free stock sites such as Unsplash, Pixabay, and Pexels.
2. Be consistent with the aspect ratio for a neat design
We recently uncovered this design tip after writing about the
best image sizes for your blog
. If you want images of different sizes to look good, aim for a consistent aspect ratio, for instance, 4.3 or 3.2.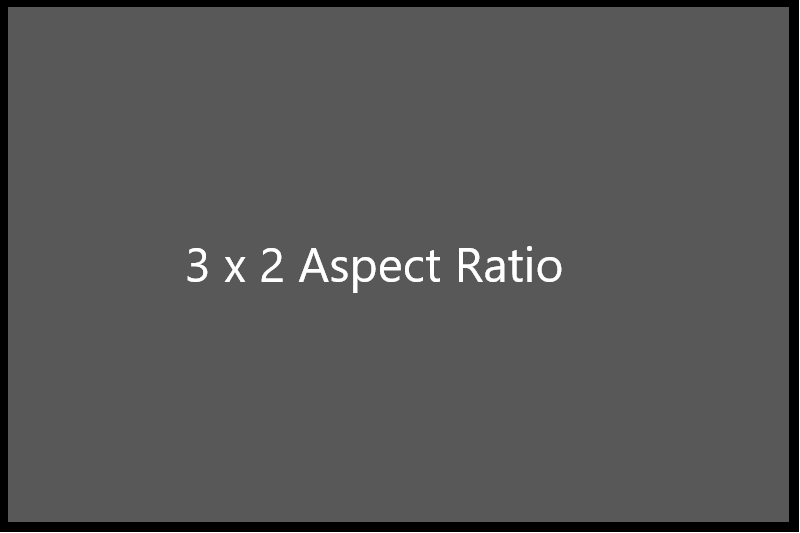 Even Instagram follows this practical advice. The main feed allows an aspect ratio of 1:1 for square images, 4:5 for vertical photos, and 1.91:1 for landscape photos.
3. Use various image types
Don't get caught up in thinking that you have to use public domain images or stock images to spruce up your blog. Mixing the image types can add more value and visual appeal. Ensure that you also use diagrams, screenshots, illustrations, gifs, memes, etc.
Images vs. infographics vs. videos: which one works best?
How do images stack up to other types of visual content that you can use for your blog? Let's take a look at both infographics and videos.
What are infographics?
An infographic is a visual content piece designed to present data in an appealing way. Unlike a single chart, it may include a collection of text, icons, images, graphs, and formatting. It's often distributed as a PFD or image file. The author utilizes storytelling techniques, but the sentences are usually brief and to the point.
Why use infographics
Infographics are commonly used to present summaries of various studies and statistics. You can even create an infographic to present the main ideas from an in-depth blog post. It's also the perfect tool to communicate with readers who like to skim for the main message.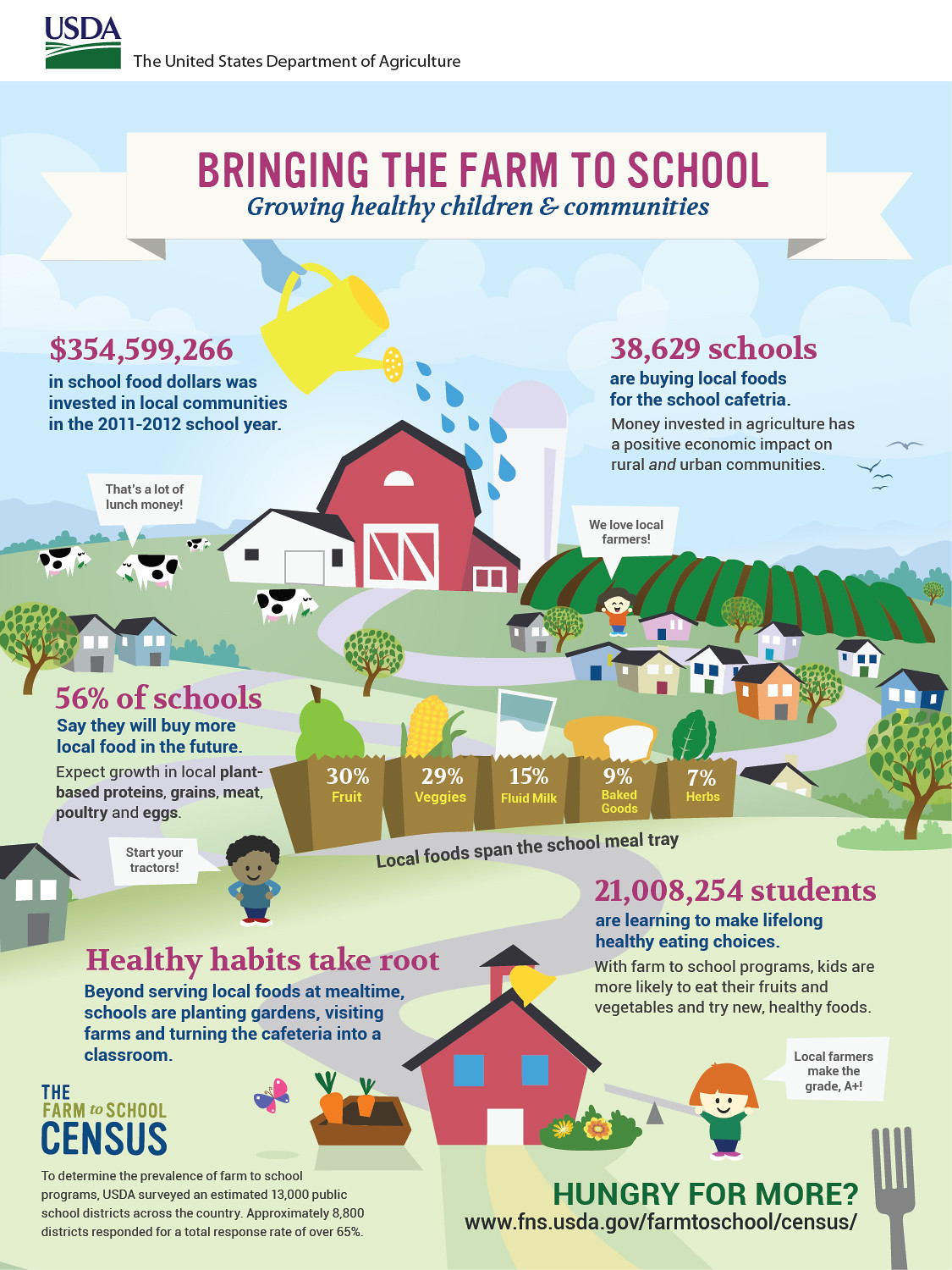 The following infographic published by the United States Department of Agriculture engages us with appealing and fun graphics. At the same time, it shares important facts about agriculture. Informational infographics like this tend to receive a lot of shares.
Infographics vs. Images
How do infographics stack up against images?
| | | |
| --- | --- | --- |
| | Infographics  | Images |
| Common usage | Formates data and facts into an appealing graphic | Provides a visual representation of people, objects, or artistic work |
| Dimensions for web use | 600 – 1100 pixels width, and up to 2000 px height | Up to 2560 px wide for common web use |
| Common sources | Custom designed from scratch or from pre-made templates | Stock websites, custom photos, image websites |
| Usage | As part of articles or as standalone-content | Along with other content, never as standalone |
| SEO value | Can rank on SERPs and image search | May rank on SERPs and image search |
| Cons | Takes time and expertise to create | Free stock images are often overused |
Consensus:
Infographics and images both have a role to play in your overall content strategy. You'll always need an image for any blog you put out. Occasionally, you can create infographics because they have the potential to go viral and generate lots of backlinks to your site.
Using videos in blogs
Videos need little or no introduction. The main questions that you are probably asking include:
Is it advisable to use videos in blogs?
Should you embed Youtube videos from other publishers?
Should you host images directly?
For the first question: It's perfectly okay to use videos in blogs. You'll make your blogs more engaging as watching a video is easier than reading the text. Videos can also rank in the video tab of the search results. Thrive Theme is an example of a brand that leverages the power of video without sacrificing the SEO benefits of writing an article. They publish their videos on YouTube and embed them on corresponding blog posts.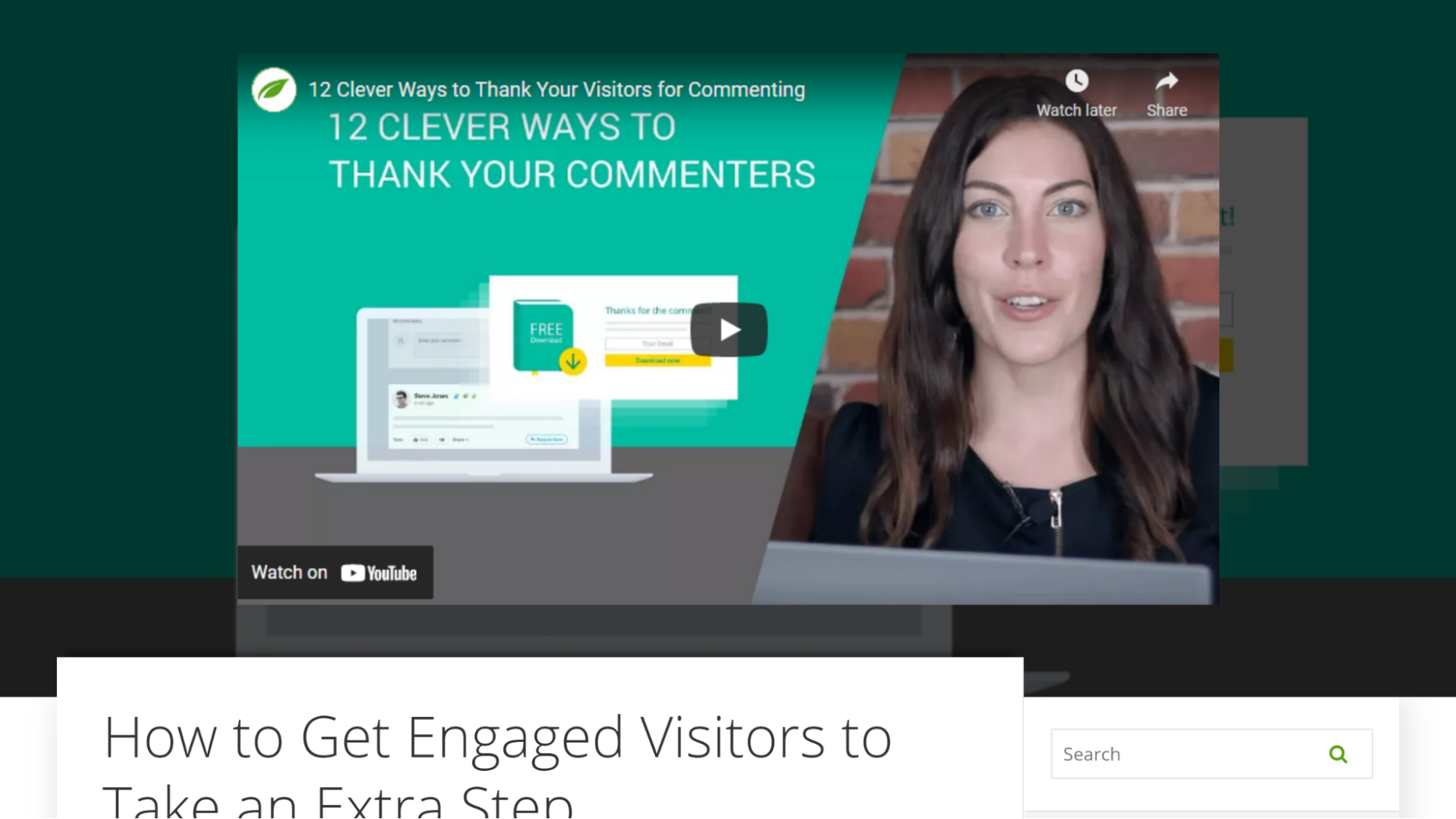 If you don't publish videos, you can consider embedding videos from other sources such as Vimeo or YouTube. You may be worried about the legal implications involved with this. Well, on YouTube, publishers can choose to enable or disable embedding. Turning on the option gives YouTube the right to allow outsiders to embed the video. Even after embedding the video on your site, it's technically not shown from your server.
Disclaimer. This does not qualify as legal advice. When in doubt, contact a legal professional.
Should you host the videos yourself or publish them on YouTube? There is a motivation to host the videos on YouTube as the site has over 2.3 billion users. It's a vital source of high-quality traffic for many brands.
Videos vs images
| | | |
| --- | --- | --- |
| | Videos  | Images |
| File size | Large file sizes | Smaller file sizes |
| Standalone content | Yes | Often used in conjunction with text |
| Engagement | More engaging, up to 1200 more shares | Less engaging than videos |
| Difficultly | More time & costly to create | Cheaper and faster to create compared to videos |
| Type | Audiovisual | Visual only |
| As Advertisements | More effective than images | Less effective than videos |
Quick ways to optimize your images
You need to make the best use of your blog images to rank higher. Consider the following tips:
1. Include alt-tag for each image
Make it easier for search engines to index and display your images in search results by writing the alt-description for each image you upload to your CMS.
2. Compress images & use next-generation formats
Even if you have an image file that's less than 300 Kb. Run it through an image compressor or
reduce its size, which can easily be done on Mac with Preview
. If it's in
PNG or JPG
, consider converting it to Webp.
3. Try faster ways to load images via CDN
A CDN is a content delivery network. Rather than serving content from one server, your images are distributed across different geographic locations. When visitors visit your site, the content is loaded from the closest server. You can set up a CDN network with various hosts. Alternatively, you can install plugins that host your images on their CDN network. CDNs are helpful for high-volume and media-heavy websites.
4. Consider lazy loading
Lazy loading is another way to improve page load speeds. A lazy-loaded site only displays the images above the fold when it loads. Then, as the user scrolls down, the site loads the rest of the photos. If you're using WordPress 5.4 or later versions, image lazy-loading is enabled by default. If not, you can install plugins to enable this feature.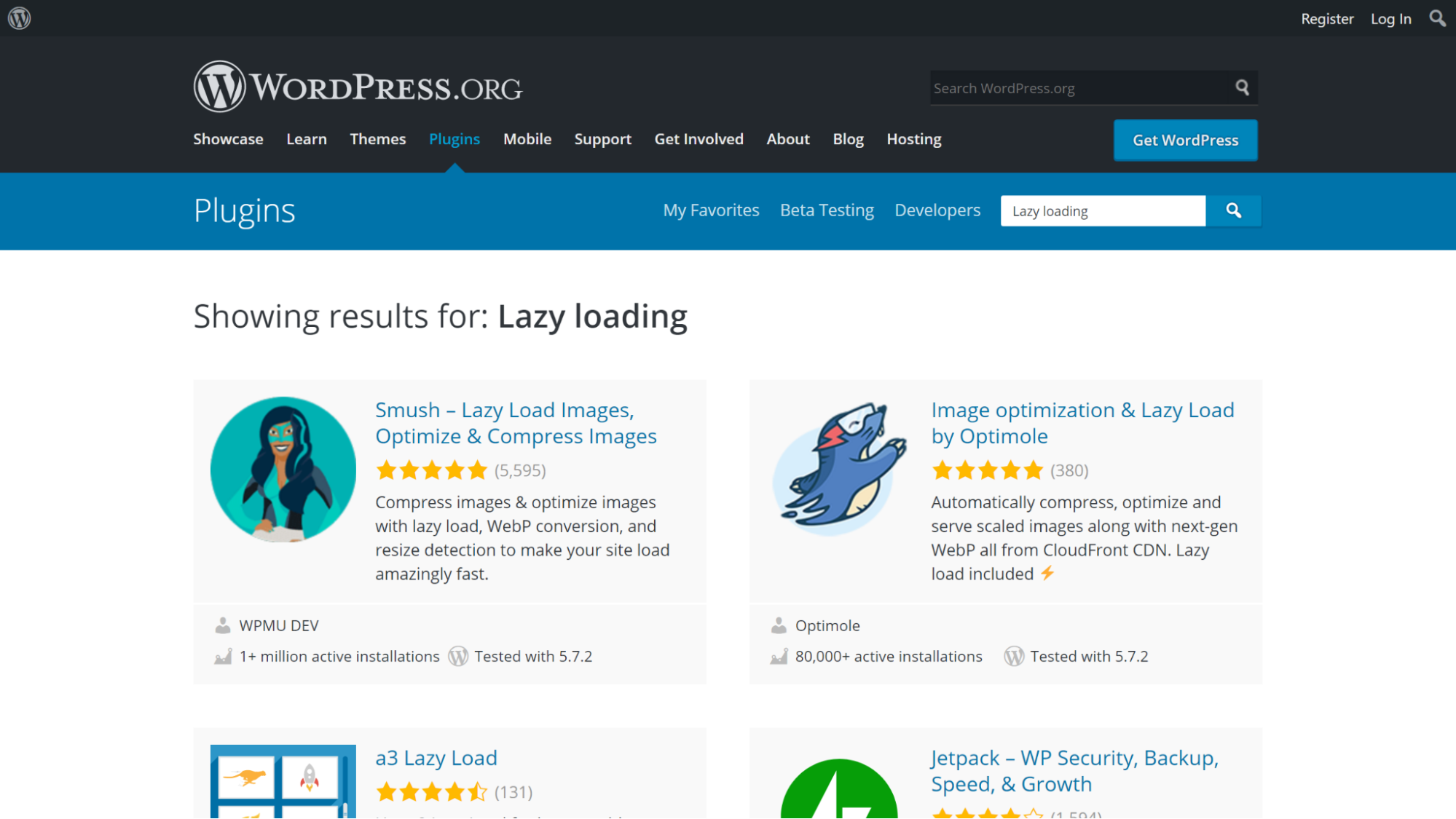 Where to find high-quality images
Are you looking for visual content for your blogs? You can try the following options:
Create graphics using free photo editors such as Canva.
Embedded gifs from Giphy.
Check YouTube and Vimeo for embeddable videos.
Hire a designer to create custom illustrations.
Purchase paid royalty-free images from stock websites.
Use photos from free stock image sites or public domain images.
Bottom Line
There is no specific number of images you should include in your blogs. Instead, consider adding one photo after every 150 to 350 words. You should also use other types of visual content, including videos, screenshots, gifs, memes, and infographics. Lastly, remember to optimize and compress images for a fast-loading website.